Pelican Negru
The wines of "Pelican Negru" are made by the Moldovan-French enterprise "Les terres noires." This company was established in 1999 by two connoisseurs of grapes and wine: the Moldovan Gheorghe Arpentin and the winemaker Nikola Diran from Alsace, France.
Pelican Negru is one the first Moldovan biodynamical wines produced by Gheorghe Arpentin. The concept of dealing with biodynamics was born in 1998 when the winemaker began working with ecologically clean wine whose objective was to reflect the local terroir. Through experience, two territories were chosen in the Olenesti village of the winemaking zone Purcari, in the Stefan Voda region. One territory is "Valea Sinodrei", where the grapevines grow at 99 m above sea level. The other one is "Togai" which has very steep slopes. The first 7 hectares of "Valea Sinodrei" were planted in the year 2000 with a unique density of 5 000 bushes per hectare (although the typical density found in Moldova is 2 200 bushes/ha).  This method frees the vine from extra grape bunches. Only copper sulfate is used to protect the seedlings.
Today, Gheorghe Arpentin produces 3 types of red blends: Soft, Silk and Velvet Red Blend. Moreover, the winemaker grows 6 different Merlot clones, as well as Cabernet Franc, Cabernet-Sauvignon, Malbec, and Rara Neagră. The winemaker's credo: nobility should be found in perfecting your own style and not copying anyone else.
You can find Pelican Negru wines at appealing prices at Invino Enoteca:
2013 Soft Red Blend
2013 Velvet Red Blend
2014 Silk Red Blend
2014 Velvet Red Blend
2014 Soft Red Blend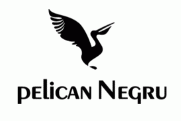 Moldova,str. A. Mateevici, 76, Chisinau
(+373 22) 21 88 70