Wine tastings are a great way to find out more about wine or just have a nice time with a great group of people. Our sommeliers consult and provide wine tastings in Russian, Romanian, French and English.
A traditional wine tasting consists of 6 wines (2 whites, 1 rosé, 3 reds) and crackers. An additional assortment of appetizers – meat and cheese platters, pâté, placinta, olives. We also carry out themed wine tastings – horizontal, vertical, blind, and comparative.
---
Each wine tasting has its own topic and idea, and therefore is, in a way, a unique project from Invino enoteca.
Wine Art is a combination of a paint master class and wine tasting, wherein you can create a work of art with guidance from a professional artist while sipping a glass of wine.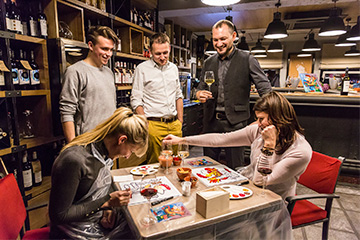 ---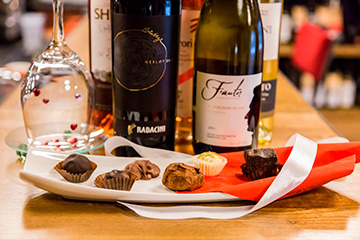 Enogastronomical tastings (Food&Wine or ChocoWine, for example) open new horizons of taste and aroma experiences by pairing wine with appetizers or desserts.
Group sizes are from 2 to 30 people.
Want to be a part of this? Follow the Facebook newsfeed and schedule of upcoming events.
---
It would be our pleasure to host an unforgettable event for you, whether it's a birthday, corporate team building, a presentation, or any other significant occasion. We also offer to reserve the entire space of our enoteca.
Want to surprise your guests? Our sommeliers can assist you in choosing wines and other alcoholic beverages for weddings, festivities or friendly parties while keeping your tastes, wishes and budget in mind.
We also offer "Traveling Tastings", wherein the sommelier comes to you in your office, home or out of town (we bring our own wines and glasses.)
Want to give someone an unusual present? We can offer the best wines for special individuals and carefully assemble a tailored gift set or basket. If desired, we can create a gift certificate for any of the services offered by our enoteca.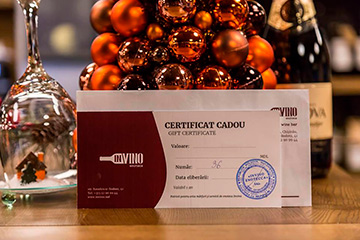 ---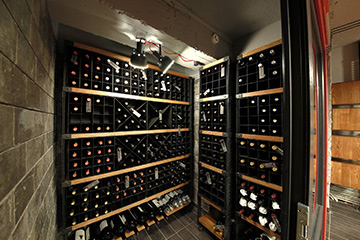 Have you ever thought about your very own wine collection? Invino enoteca's professional sommeliers can assist you in making the first steps toward your own wine collection or can find exquisite wines to add to the one you already have.
---
We provide professional service for HoReCa: consulting, composing a wine list, professional opinions on wine choices for an establishment, and an entire cycle of following up services and wine list replenishments.