Equinox
Founder of the winemaking enterprise "Crama Domneasca," Constantin Stratan, makes famous wines under the "Equinox" name. He got the idea of creating his own winery when he was working as a technologist for a large winemaking facility.
Equinox started off as 2 hectares of land near the village Olenesti in the Purcari region. Presently, the amount of vineyard lands has grown to 5 hectares, upon which 8 red varietals and 3 white ones grow. The winemaker has also devoted much of his efforts into cultivating the autochthonous variety called Rara Neagră, given the growing interest in local varieties of grapes. Constantin Stratan sees the future in organic winemaking, which is why he employs these principles in his own process. This is how the only biodynamical wine "Trei Crai" in Moldova came to be. The grapevine does not grow on plain soil, but among particular herbs and grasses, in harmony with its surroundings. This is what permitted the winemaker to get an organic certification in 2013.
The wine ages in French, American, Russian and Carpathian oak barrels. The wines from the "5 Elemente" series have gained a distinct recognition among wine enthusiasts. These wines have won multiple awards in international competitions. At the moment, this winemaking enterprise exports wines into European and Asian countries, having a particular popularity in Japan.
Find "Equinox" wines at Invino at pleasant prices:
2014 Equinox "5 Elemente" Alb
2015 Equinox "5 Elemente" Alb
2017 Equinox "5 Elemente" Alb
2017  "Trei Crai" Rose
2019 Equinox "5 Elemente" Orange
2017 Equinox Shiraz
2014 Equinox "5 Elemente" Roșu
2015 Equinox "5 Elemente" Roșu
2017 Equinox "5 Elemente" Roșu
2015 Sintagma
2017 Sintagma
2013 "Trei Crai"
2017 "Equinoctius"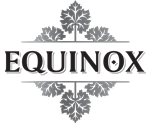 Moldova,Chisinau, 121 Alba Iulia Str, ap.23
(+373) 69 500 505